Premiere Colorado Builders
We work with some of the best Northern Colorado builders in Fort Collins, Loveland, Berthoud, Timnath, Windsor and Boulder.  For more information or to set up an appointment with any of these builders or to talk about others,  please contact the Colorado Luxury Homes & Land Team: Mitch Weiner @ 970.218.8300  
ROBERT SMITH CONSTRUCTION
We know everyone is different. We believe their homes should be unique as well. We like the creative side of home building, and enjoy working with our clients to design and build the perfect residence for their family. We know that a truly custom home is a collaborative effort, only achievable by a company that understands and listens to each client, and one who pays attention to the small details as well as the bigger picture.
Our goal is simple. We strive to do the best job possible in all circumstances. We believe that if we've done our best, our clients will be happy. This extends, not only to our customer service, but also to our relationships with subcontractors and suppliers, to our scheduling and standards of workmanship, and to the effort we put into designing your home.
Robert and Anita Smith have been blessed to have the opportunity to design and build countless custom homes in Fort Collins & Northern Colorado over the last twenty years. We value the relationships we have built, not only with our clients, but also with our subcontractors and vendors. We loyally employ the best local tradesmen, and have some of the lowest sub-contractor turnover in the industry. These relationships help us to control quality, while keeping costs down. From design to completion, we will make every effort to be professional, cost-conscious, and forthright, every step of the way.
Instead of hiring an architect and a builder, our design-build process provides these services under one roof. This not only saves time and money, but it also allows for better communication and an overall more satisfying home building experience. Robert is an established home designer in Northern Colorado, being recognized as a trendsetter and leader in the field by local architects and builders alike. Over the past twenty years, he has designed and built some of the most iconic homes in the region. His first concern, however, is in making sure he is designing a home that his client and their family can afford, love, and live comfortably in. He works closely with each client to turn their dreams and ideas into reality.
TO MEET WITH ANY OF THESE BUILDERS, CONTACT MITCH WEINER 970.218.8300
BRANNEN DESIGN AND CONSTRUCTION
TURNING DREAMS INTO REALITY
Over the years, we have become synonymous with luxury home building in northern Colorado and we take pride in building homes that stand out from the rest. By using a unique team approach and collaboration between talented staff, Brannen brings homeowners; visions to life. We will help you build a luxury home that will not only make a statement but also reflect your lifestyle. We understand that the home-building process is a very personal choice, and that you require first-class service that range from architecture to interior design. That is why Brannen Design and Construction believes in flexibility throughout the building process while guiding the client and keeping the client's interests first.

We stand by our relaxed, open-door philosophy and would like to invite you to experience the pride we invest in every project. Whether you are ready to start the building process, or just need questions answered, we encourage you to sit down and let us explain how the building process can truly be enjoyable while being a rewarding experience for everyone.
Our success lies in our philosophies to home building:
Focusing on the homeowners first
Unlimited communication
Homes built on time
Within the client's budget
Utmost attention to detail
Keeping the process of building an enjoyable experience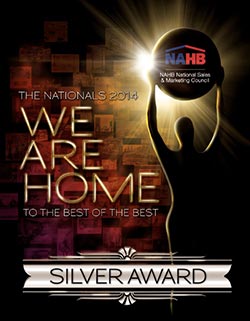 NAHB Nationals Silver Award
The Nationals 2014 Silver Award – Best One of a Kind Home
At the 2014 National Home Builders Show in Las Vegas, Brannen Design and Construction won the Silver Award for Best One of a Kind Home for their entry of a beautiful custom home they built in Harmony Golf Club in Timnath. This award is given to only a very few homes each year throughout North America.
Brannen Design and Construction was very proud to partner with KGA Architectural Studios of Boulder to receive this prestigious award. The Home was an artfully crafted Old Tuscan Villa style Home situated on a bluff overlooking the mountains and the golf course, complete with a resort style pool and outdoor living. Brannen Design and Construction Inc.
STEPS TO BUILDING A CUSTOM HOME
Please review the steps involved when building a custom home with Brannen Design and Construction. At the bottom of this page is a link to download a printable version.
If you cannot find an answer to your question please call Jay at (970)988-0238 or Contact Us and we will get back to you with an answer in a timely manner.

Step One
Decide to build a custom home
Choose reputable builder(s) to interview
Choose who to build with
Determine size and budget for home
Establish budget for home and lot
Visit a lender for pre-approval
Tour homes build by Brannen Design & Construction
Tour of available homes and properties
Sign professional service agreement
Select site and sign lot reservation agreement
"With Brannen Design and Construction all the pieces fit, after touring their homes we knew that they were our choice." – Bob and Sarah Raith
Step Two
Acquire a lending commitment
Initial meeting with architect(s)
Select Architect
Sign contract to design home
Preliminary architectural drawings
Preliminary determination of finishes and allowances
Preliminary pricing based on drawings
Review soils report and design foundation
Final architectural drawings and site plan completed
Plans bid by sub-contractors
"During this time, our home's final design was near completion. This was our opportunity to have fun with colors, textures, and Brannen's list of unlimited amenities. We were truly able to customize our home to fit our lifestyle." – Bob Raith
Step Three
Cost estimate reviewed by Brannen with owner
Revisions/changes to plan or specifications
Revisions to cost estimate
Review of construction loan draw process
Explanation of change order process
Sign 'Contract to Build'
Cost breakdown, plans to appraiser, and construction lender
Submit plans to architectural review committee
Closing on construction loan and construction begins
"We felt very comfortable signing a Contract to Build with Brannen Design and Construction. The attention to detail reflected in his homes and to our desires assured us that we made the right choice for our future dream home." – Bob and Sarah Raith
TO MEET WITH ANY OF THESE BUILDERS, CONTACT MITCH WEINER 970.218.8300
PROVINCE LUXURY HOMEBUILDING COMPANY
Our Experience
Since 2002, Paul and Brenda and their team have been recognized as the industry leader in setting the standard for excellence in fine new home design and construction in Northern Colorado. With their wealth of knowledge and experience they have created a custom experience second to none, always providing an exciting portfolio of custom homes and truly innovative designs. The result is an incomparable collection of new home designs that offer an exceptional overall value.
"Our goal in each and every custom home is quite simple. We start with the best combination of design, follow that with efficiency & timeliness and finish with the attention to detail YOU deserve." — Paul and Brenda Bickerton
The Dream
The moment you dream of building a custom home and decide to make it a reality is when the custom home building process begins.
Incorporating your lifestyle and ideas throughout the design process is what makes your home truly custom. Our years of experience along with our commitment to service and attention to detail will be there to help you realize your dream every step of the way.
Discuss Your Ideas
The process begins with an initial meeting, enabling you to meet and discuss your ideas with Province, the people that will personally be building your home. During this conference, two major considerations will be discussed.
First, the location of your new home can either be a lot that you have purchased, or one that we have in inventory. And second, we will discuss the process of designing your custom home exactly as you dream it! We work with several plan designers that offer the ability to make your home a unique masterpiece.
Finalize your Plan
Once your custom home has been personalized and the lot has been chosen, we will accompany you through the financing and contracting phase, making this component effortless and straightforward.
Selecting finishes and custom details is great fun. We will be with you throughout the entire process providing support and professional advice. We'll help you choose building options and confirm your choices match your budget. Think of us as your helping hand while you build a home that is custom to you.
Breaking Ground
Now, we are ready to start the building segment of your custom home. During the first weeks and months of the process, we will have several consultations to determine the unique items and custom details that you want to incorporate into your new home.
You will meet one-on-one with our contractor to select items such as plumbing fixtures, paint colors, tile, cabinet styles, lighting fixtures, door styles and exterior elevation combinations; at a comfortable and enjoyable pace.
Our contractors are always available for consultation during any phase of construction and design; or out on the building site once construction has started. You will have every opportunity you need for walk-throughs of your home during the different construction phases.
PHOTO GALLERY
EXTERIORS
GREAT ROOMS
KITCHENS
MASTER SUITES
BATHROOMS
SPECIAL PROJECTS
TO MEET WITH ANY OF THESE BUILDERS, CONTACT MITCH WEINER 970.218.8300